Giving Tuesday is December 1st!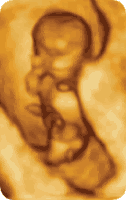 The season of gratitude and giving is upon us!
Make any gift to the Saint Paul VI Institute on Giving Tuesday, Dec. 1, and you'll receive this powerful tool for life cause that you can keep right at your fingertips. This credit card-sized motion card features two frames from an ultrasound video of a 10-week, 4-day (gestational age) human baby. Move the card back and forth and watch as the baby move! Keep this card with you as a valuable tool whenever you are interested in discussing the human attributes of a baby in its mother's womb during the first trimester of pregnancy.
Are you in? Visit us online and see how your gift helps bring hope and healing to women and families through the Saint Paul VI Institute.
We are grateful for your support!
---
---
About the Institute
The Saint Paul VI Institute, founded in 1985 by Thomas W. Hilgers, MD, is internationally recognized for its outstanding achievements in the field of natural fertility regulation and reproductive medicine of scientific research and educational program development; allied health professional education programs for couples and professionals; professional, caring, and morally acceptable patient services.
The Saint Paul VI Institute for the Study of Human Reproduction is building a culture of life in women's health care through its major developments — Creighton Model FertilityCare System and NaProTechnology.